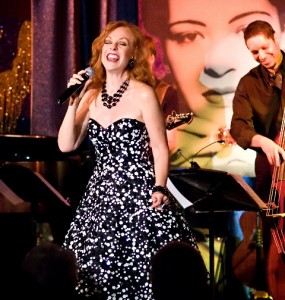 Ms. Garrett has that rare combination of popular and critical appeal. In addition to being named Favorite Female Vocalist several years in a row by The Denver Post readers, she has garnered top spot as Denver's favorite singer/entertainer with the readers of 5280 Magazine and the gay community's, OutFront Magazine. She has been reviewed glowingly in national press from Gentleman's Quarterly to Genre Magazine.
This dynamic redhead changes her feathers easily, from the glamorous, sequined chanteuse fronting her 10 piece big band, "Any Swing Goes," to her hilarious, country spoof, The Patsy DeCline Show. (She is currently in talks to produce a Patsy DeCline movie!) No matter what persona, her charismatic stage presence, sense of humor and ability to connect with any audience always shines through.
Lannie has headlined at Denver's prestigious Boettcher Concert Hall and Red Rocks Amphitheater with the Colorado Symphony Orchestra. She's worked with a diverse group of national entertainers from Roseanne Barr, B.B. King and Jay Leno just to name a few. Lannie and her swinging big band even earned a standing ovation when they opened a show for her idol, Mr. Ray Charles.
In April 2016, Lannie was inducted into The Colorado Music Hall of Fame, along with Glenn Miller. (John Denver, Judy Collins, Firefall etc) (her career display can be seen at the Hall of Fame Museum at Red Rocks) Earlier that year, she was inducted into The Colorado Tourism Hall of Fame along with famed concert promoter, her friend, Chuck Morris.
Her natural stage presence and innate acting ability landed her a principal movie role as the girlfriend of Anthony Perkins in the movie, "The Destroyer." In the summer of 2002 she guest starred in Eve Ensler's, The Vagina Monologues with veteran New York actresses, Rhonda Ross (Diana's daughter!) and Glynis Bells at the Denver Center for Performing Arts.
Her fans know that Lannie is more than just a versatile singer. She has mentored children through The Denver Kid's Program for years. As emcee for a Colorado AIDS Project fundraiser, her comedic skills prompted a Denver Post columnist to write, "She wowed the crowd with a style reminiscent of Bette Midler…she ad-libbed and the crowd roared its approval .. if her voice ever gives out she could start a career as a stand-up comic."
In 2006, Lannie opened a nightclub bearing her name, a gorgeous, intimate showroom, Lannie's Clocktower Cabaret, in the heart of downtown Denver, where she performed her sold-out shows for 10 successful years.
Lannie always works with the finest musicians and each show is beautifully packaged from her costumes to the pro-sound reinforcement and lighting.
She can customize each show to suit the needs of the client and/or audience.
Lannie and her various shows/bands perform regularly at concerts, festivals, coorporate events and parties of all sizes from 25 to 2500.
Bookings: Contact, lannie@lannie.com or fill out the booking form on this website.