I was inducted into the Colorado Music Hall of Fame on April 16th, 2016
What a great night it was! The blizzard of 2016 did not keep folks away.
AND I got to sing with The Glenn Miller Orchestra for two songs after MY show!
Thank you to everyone who drove out in the snow and helped me celebrate.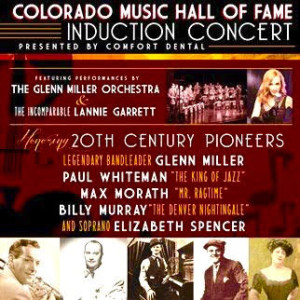 Colorado Music Hall of Fame Induction Concert Presented by Comfort Dental featuring performances by:
The Glenn Miller Orchestra & Lannie Garrett
Saturday, April 16, 2016 – 7pm
Doors Open: 6:00pm  (ages: 16 & up)
Starting from: $53 / Door Price: $53
Honoring "20th Century Pioneers"
Legendary bandleader, Glenn Miller
Paul Whiteman, "the King of Jazz"
Max Morath, "Mr. Ragtime"
Billy Murray, "the Denver Nightingale"
Soprano Elizabeth Spencer
and the incomparable Lannie Garrett